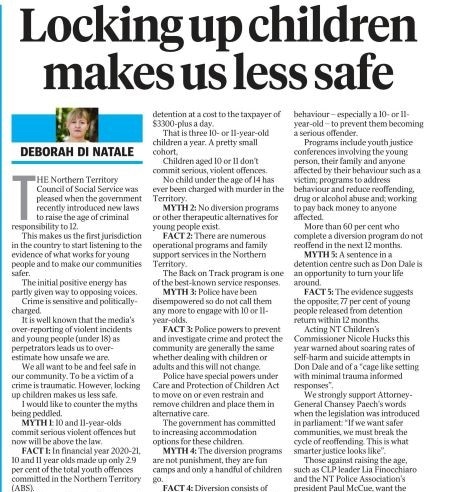 By Deborah Di Natale CEO NT Council of Social Service
The Northern Territory Council of Social Service was pleased when the Government recently introduced new laws to raise the age of criminal responsibility to 12.
This makes us the first jurisdiction in the country to start listening to the evidence of what works for young people and to make our communities safer.
The initial positive energy has partly given way to opposing voices.
Crime is sensitive and politically-charged.
It is well known that the media's over-reporting of violent incidents and young people (under 18) as perpetrators leads us to overestimate how unsafe we are.
We all want to be and feel safe in our community. To be a victim of a crime is traumatic. However locking up children makes us less safe.
I would like to counter the myths being peddled.
MYTH 1: 10 and 11-year-olds commit serious violent offences but now will be above the law.
FACT 1: In financial year 2020-21, 10 and 11 year olds made up only 2.9% of the total youth offences committed in the Northern Territory (ABS).
Children aged under 12 made up 11% of children entering police diversion programs.
Between 2017 and 2022, children aged 10 or 11 represented 1% of the mostly Aboriginal children in custody, with 18 children entering detention at a cost to the taxpayer of $3300-plus a day.
That is three 10- or 11-year-old children a year! A pretty small cohort,
Children aged 10 or 11 don't commit serious, violent offences.
No child under the age of 14 has ever been charged with murder in the Territory.
MYTH 2: No diversion programs or other therapeutic alternatives for young people exist
FACT 2: There are numerous operational programs and family support services in the Northern Territory.
The Back on Track program is one of the best-known service responses.
MYTH 3: Police have been disempowered so do not call them any more to engage with 10 or 11-year-olds.
FACT 3: Police powers to prevent and investigate crime and protect the community are generally the same whether dealing with children or adults and this will not change.
Police have special powers under Care and Protection of Children Act to move on or even restrain and remove children and place them in alternative care.
The Government has committed to increasing accommodation options for these children.
MYTH 4: The diversion programs are not punishment, they are fun camps and only a handful of children go!
FACT 4: Diversion consists of community programs to help at-risk young people understand the impacts of their behaviour through:
Evidence-based international best practice which recognises a therapeutic and not punitive approach is best to address a child's behavior – especially a 10- or 11-year-old – to prevent them becoming a serious offender.
Programs include youth justice conferences involving the young person, their family and anyone affected by their behaviour such as a victim; programs to address behaviour and reduce re-offending, drug or alcohol abuse and; working to pay back money to anyone affected
More than 60 per cent who complete a diversion program do not reoffend in the next 12 months.
MYTH 5: A sentence in a detention centre such as Don Dale is an opportunity to turn your life around.
FACT 5: The evidence suggests the opposite.
77% of young people released from detention return within 12 months.
Acting NT Childrens Commissioner Nicole Hucks this year warned about soaring rates of self-harm and suicide attempts in Don Dale and of a "cage like setting with minimal trauma informed responses".
We strongly support Attorney General Chansey Paech's words when the legislation was introduced in Parliament: "If we want safer communities, we must break the cycle of reoffending. This is what smarter justice looks like".
Those against raising the age such as CLP leader Lia Finocchiaro and the NT Police Association's president Paul McCue want the same thing as all of us – a safe community. But the alternatives they are proposing don't work. Lets's stop with the myths and follow the evidence.