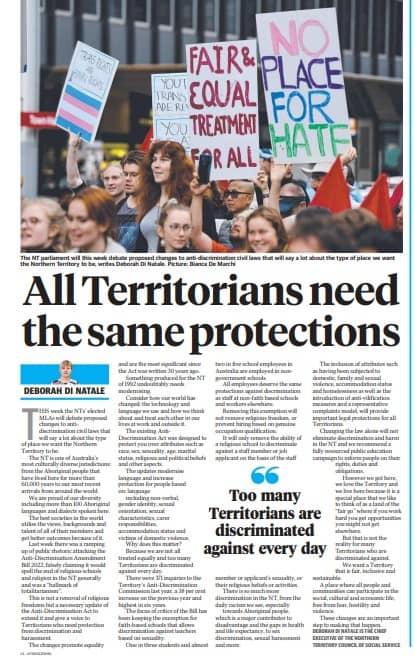 This week the NTs' elected MLAs will debate proposed changes to anti-discrimination civil laws that will say a lot about the type of place we want the Northern Territory to be.
The NT is one of Australia's most culturally diverse jurisdictions: from the Aboriginal people that have lived here for more than 60,000 years to our most recent arrivals from around the world. We are proud of our diversity including more than 100 Aboriginal languages and dialects spoken here.
The best societies in the world utilise the views, backgrounds and talent of all of their members and get better outcomes because of it.
Last week there was a ramping up of public rhetoric attacking the Anti-Discrimination Amendment Bill 2022, falsely claiming it would spell the end of religious schools and religion in the NT generally and was a "hallmark of totalitarianism".
This is not a removal of religious freedoms but a necessary update of the Anti-Discrimination Act to extend it and give a voice to Territorians who need protection from discrimination and harassment.
The changes promote equality and are the most significant since the Act was written 30 years ago.
Something produced for the NT of 1992 undoubtably needs modernising
Consider how our world has changed: the technology and language we use and how we think about and treat each other in our lives at work and outside it.
The existing Anti-Discrimination Act was designed to protect you over attributes such as race, sex, sexuality, age, marital status, religious and political beliefs and other aspects.
The updates modernise language and increase protection for people based on: language including non-verbal, gender identity, sexual orientation, sexual characteristics, carer responsibilities, accommodation status and victims of domestic violence.
Why does this matter?
Because we are not all treated equally and too many Territorians are discriminated against every day.
There were 371 enquiries to the Territory's Anti-Discrimination Commission last year, a 38 per cent increase on the previous year and highest in six years.
The focus of critics of the Bill has been keeping the exemption for faith-based schools that allows discrimination against teachers based on sexuality.
One in three students and almost two in five school employees in Australia are employed in non-government schools. All employees deserve the same protections against discrimination as staff at non-faith based schools and workers elsewhere.
Removing this exemption will not remove religious freedom, or prevent hiring based on genuine occupation qualification. It will only remove the ability of a religious school to discriminate against a staff member or job applicant on the basis of the staff member or applicant's sexuality, or their religious beliefs or activities.
There is so much more discrimination in the NT, from the daily racism we see, especially towards Aboriginal people, which is a major contributor to disadvantage and the gaps in health and life expectancy, to sex discrimination, sexual harassment and more.
The inclusion of attributes such as having been subjected to domestic, family and sexual violence, accommodation status and homelessness as well as the introduction of anti-vilification measures and a representative complaints model, will provide important legal protections for all Territorians.
Changing the law alone will not eliminate discrimination and harm in the NT and we recommend a fully resourced public education campaign to inform people on their rights, duties and obligations.
However we got here, we love the Territory and we live here because it is a special place that we like to think of as a land of the "fair go" where if you work hard you get opportunities you might not get elsewhere.
But that is not the reality for many Territorians who are discriminated against.
We want a Territory that is fair, inclusive and sustainable. A place where all people and communities can participate in the social, cultural and economic life, free from fear, hostility and violence. These changes are an important step to making that happen.